Healthy and Hearty: Pressroom Launches New Menu Sure to Satisfy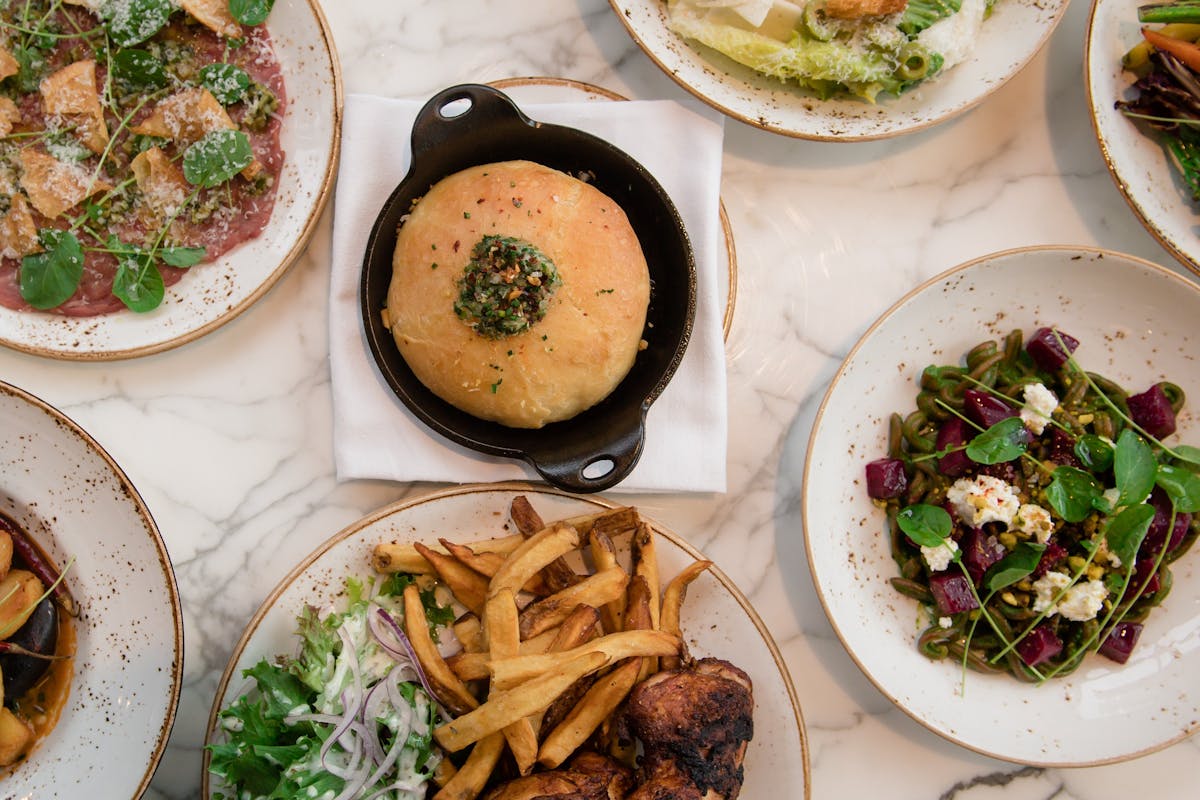 Pressroom is a constant companion. It's a space that invites any who visit to work, lounge listlessly, or nod along to the mid-90's hip hop playing just above the volume threshold. And as the days grow shorter, places like Pressroom become busier—a challenge especially well-suited to a restaurant where creativity in the kitchen has become the catalyst for change, resulting in a brand new menu that is at once as hearty as it is healthy; the perfect winter companion.

Travis McConnell is the executive chef at Pressroom. His passion for excellent food is evident in the way he talks about it, like an author finishing the final chapter of the book he was born to write. McConnell's vision for Pressroom is rooted in his philosophy that commercial kitchens can, and should, be fun.
"We're really trying to push food forward as far as we can, and mainly that comes from just wanting to have fun in the kitchen," McConnell said. "And so this menu stems from having fun, which ultimately people see and they pick up on, and that can spread. If we can make Pressroom stand out that way, that's the goal."
But beyond taking joy from the craft of cooking, McConnell also finds meaning in how he and the staff think about the food itself, from conception to the creation of a new dish.
"When we sit down to think about a new menu, we already have 100 ideas that we come together and go back and forth on," McConnell said. "And you don't always get that level of passion in some cooks, but we come to the table with ideas and we work through them together, and it's become a really cool menu."
The menu was designed to fit every occasion. Whether a working lunch or a date night, the chefs at Pressroom are offering options to fit every palette, with an eye toward food that's as fitting following a bike ride as it is before heading to the movies.

Not only is the menu hearty and healthy, but it's well thought out, too. McConnell talks about the menu in a way that suggests the end products are a result of cooking the right way—with well-sourced ingredients, an awareness of seasonal changes in food production, and the procurement of excellent products that bolster the whole process.
Some of McConnell's favorite things on the menu come from his knowledge of great ingredients, and that extends to his training as a butcher.
"The Coppa Steak is really cool, because it involves some fun butchery and knowledge. It's a shoulder chop that we slow cook for 18 hours, and it's the most amazing thing because the shoulder on an animal has this really beautiful marbling on it," McConnell said. "The shoulders work a lot on an animal and to me they develop some really complex flavors, and the slow cooking gives you this tender, rich delicious meal."

Another element allowing Pressroom's flavor to stand out is the creation of fresh pastas, which the chefs enjoy making from scratch. McConnell said Pressroom is also working with an intern from Brightwater on the creation of the pastas, in a relationship that benefits both the business and the educational institution right down the road. "We're working within the community, we're buying a product from them, and I meet with her on the pasta and she's gaining skills and knowledge—it's got a lot of possibilities," McConnell said of the partnership with Brightwater. The Beet Gimmeli Pasta, a vegetarian dish featuring roasted beets, spinach cream, sheep's milk feta and pistachio is an early favorite of regulars, and stands as an example of food that can be hearty and healthy at the same time.
There's excitement in the air at Pressroom, where the new menu has invigorated a team of passionate chefs. There's no time like the present to get in and try something new. After all, this is a team that's always moving forward. "This is the second dinner menu we've rolled out together here," McConnell said, referring to he and the team. "It's great to see the evolution of where this is going, and to think about where we can take it, and we just hope everyone continues to enjoy."


Article: TJ Stallbaumer
Photography: Meredith Mashburn